WORCS: Steps to follow for a project
This vignette describes the Workflow for Open Reproducible Code in Science, as introduced in Van Lissa et al. (2020). The paper describes the rationale and principled approach on which the workflow is based; this vignette describes the practical steps for R-users in greater detail. Note that, although the steps are numbered for reference purposes, we acknowledge that the process of conducting research is not always linear. The workflow is illustrated in the graph below, with optional steps displayed in blue nodes: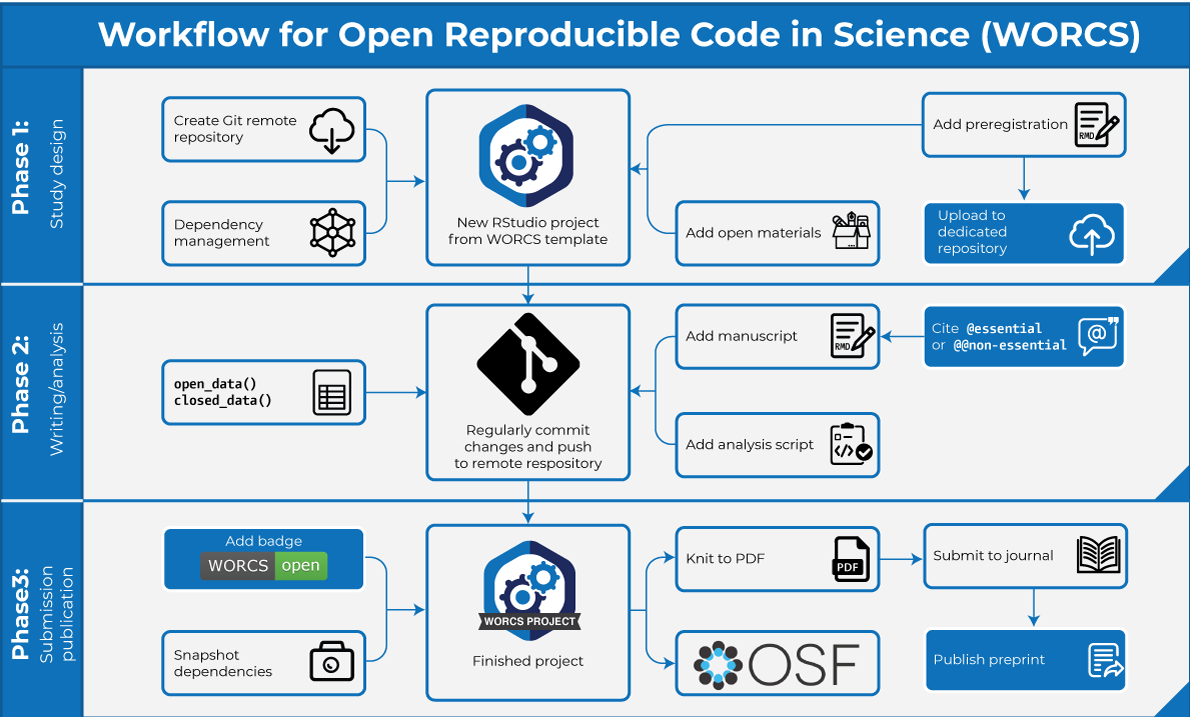 Sample WORCS projects
For a list of sample worcs projects created by the authors and other users, see the README.md file on the WORCS GitHub page. This list is regularly updated.
References
Aalbersberg, IJsbrand Jan, Tom Appleyard, Sarah Brookhart, Todd Carpenter, Michael Clarke, Stephen Curry, Josh Dahl, et al. 2018. "Making Science Transparent by Default; Introducing the TOP Statement," February. https://doi.org/10.31219/osf.io/sm78t.
Van Lissa, Caspar J., Andreas M. Brandmaier, Loek Brinkman, Anna-Lena Lamprecht, Aaron Peikert, Marijn E. Struiksma, and Barbara Vreede. 2020. "WORCS: A Workflow for Open Reproducible Code in Science," May. https://doi.org/10.17605/OSF.IO/ZCVBS.